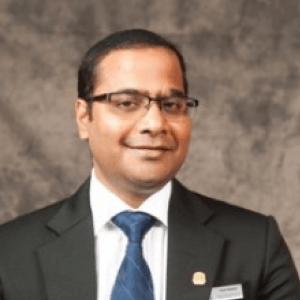 Prem Shankar
Naval Architect, Software Enthusiast
Over the last 15 years, worked in Singapore and India with industry leaders like Mcdermott and Bumi Armada for the Design, Engineering, Construction and Installation of a variety of marine and offshore structures, ranging from ships to offshore platforms and FPSOs. Also had the honor to serve as the Vice President of Society of Naval Architects and Marine Engineers Singapore (SNAMES) from 2015-2018. A graduate in Naval Architecture from Indian Institute of Technology (IIT), Kharagpur. 
It was while working on a niche Pipe Transportation project and scouring the internet unsuccessfully to find some online guidance that I realized the need for an online platform where useful knowledge can be shared for use by others in the marine fraternity.  TheNavalArch is my endeavor to create a platform which brings out the knowledge currently lying with industry experts and places it on the web for everyone to benefit from.
Aiming to be a collaborative effort, it is a website which aims to bring the marine and oil & gas industries to the internet through rich in quality but low in cost online content like useful calculators, video tutorials and articles.
I am looking for collaborators who are interested in creating rich content and contributing to the growth of this platform and to the industry at large. Interested experts can contact me at prem@thenavalarch.com
You do a fine job of explaining the methodology and inputs to your spreadsheets which allows our people to make effective use of them immediately. We will certainly continue in the future, to purchase your products
Your spreadsheet is great, even better that the software I am used to.
I am using it in order to design fenders for a new Harbour in Montevideo.
Just wanted to thank you for your assistance with the two technical analyses we conducted recently.
I was pleased with the work provided, which was very professional. In addition, your response to enquiries and requests for further analyses was always prompt, which was very much appreciated.
I look forward to working with you in the future.
TheNavalArch's products have been handy for us in getting reliable Engineering Calculations for critical Marine Operations like Mooring, Loadout and Towing which we carry out on a regular basis.
The Technical Support is prompt and helpful in clarifying doubts and queries. Technical Consultancy provided for Critical Loadout operations involving Ballasting and Stability Calculations have helped us deliver our projects timely.
So far I have downloaded Lug and Cargo forces spreadsheets and use them daily and find them very useful.
I get similar results with my own spreadsheets so it's great to have a double check as its very easy to make a mistake in a spread sheet
Thank you for the outstanding help we received during our project.
Your products have also been helpful to us in our operations.
Get in touch

Please get in touch with us for any of your queries regarding our products, or to request a new product. You can also post us your queries regarding engineering design and analysis which we can assist you with. We take every inquiry with a high level of seriousness, so we request you to provide all information precisely. We will get back to you within 24 hours
Email
info@thenavalarch.com