TheNavalArch's Engineering On-Demand
Get your analysis and design work done –
on-budget, on schedule
With our strong network of industry experts, we are committed to responding to your engineering needs in a speedy, reliable, and timely manner
Quality on top
Our industry experts have years of experience in design/engineering, including handling approvals smoothly
Save on your engineering
Get rid of your costly local consultant. We keep our overheads low to pass on the value and savings to our customer
A new way to deliver
Fil up easy forms. We'll get back with a quick quote. Milestone-based payments. All done digitally
A Service you can depend on
Engineering for maritime design and operations requires an ability to understand regulations and manage statutory authorities/Class, besides having the right expertise and resources.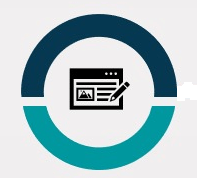 Easy Forms
Fill out easy forms for us to scope out the work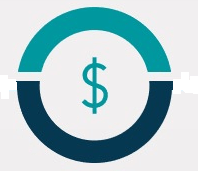 Quick Quote
We'll get back with a quick quote usually within 24 hrs.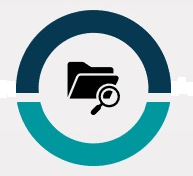 Expert execution
Our expert works to execute the analysis on schedule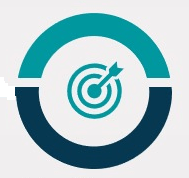 Simplified delivery
Pay and download the report. Milestone based payments
Some recent work
Following showcases some of our recent projects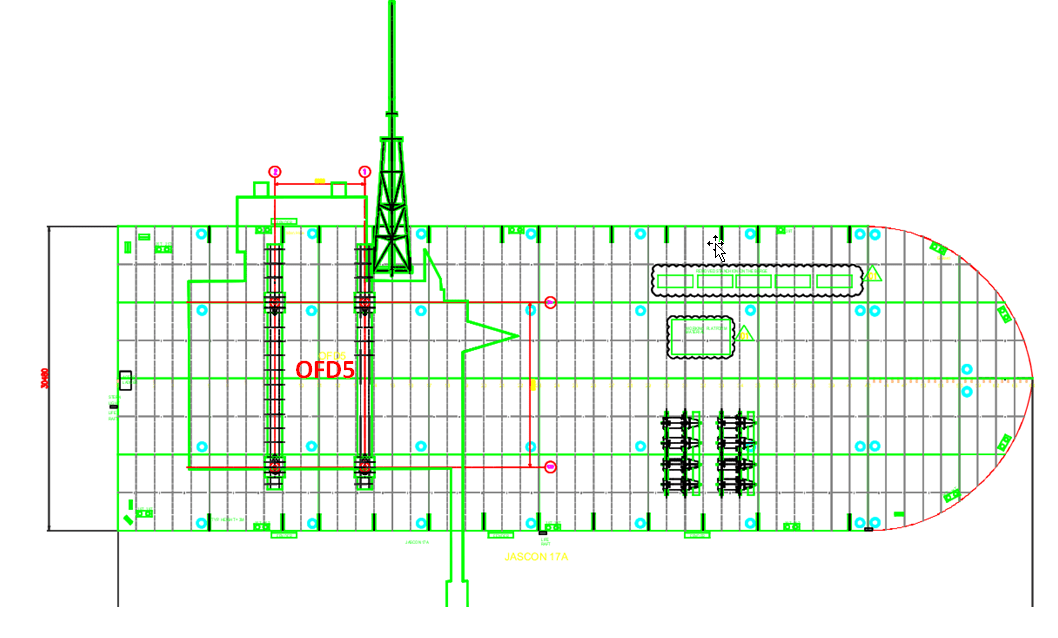 Loadout Ballasting & Stability
The project involved preparing a detailed Loadout ballast sequence for a SPMT Trailer Loadout of a 2000 MT module. Multiple ballasting plans were created for varying tide levels and different steps in the loadout process. A 24/7 support during the actual operation ensured that any site variations were addressed and the operation went smoothly.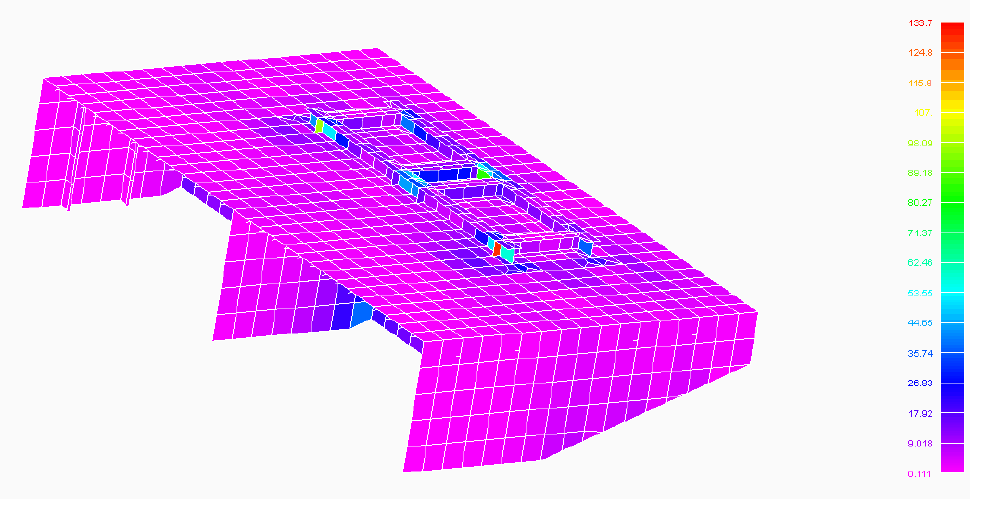 FE Analysis for cement silos on a barge
Two 100t Cement Silos were to be installed on the main deck of a barge, with H-Beams and a deck insert welded on the Main deck, in way of the silos legs. TheNavalArch performed a Finite Element Analysis (FEA) check to confirm that the local stress on the structure was well within the limit, and the foundation design was approved by the statutory authority.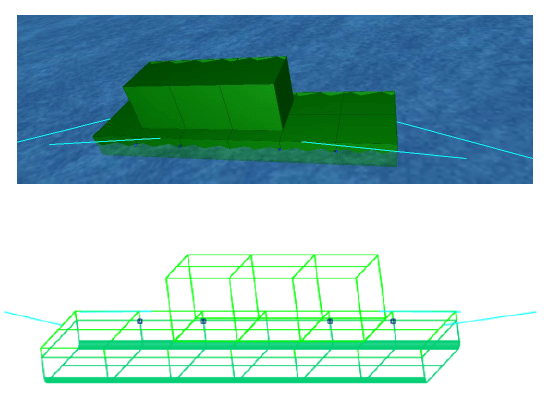 Mooring loads for berth design
A new wharf was being developed to moor Barges, Tugs, and other small vessels. TheNavalArch was commissioned to perform a mooring analysis to calculate the berthing loads on the fenders and bollards. Calculations were performed for a 100-year sea state for multiple heading angles. The resulting forces were used further in the design of the pile structure.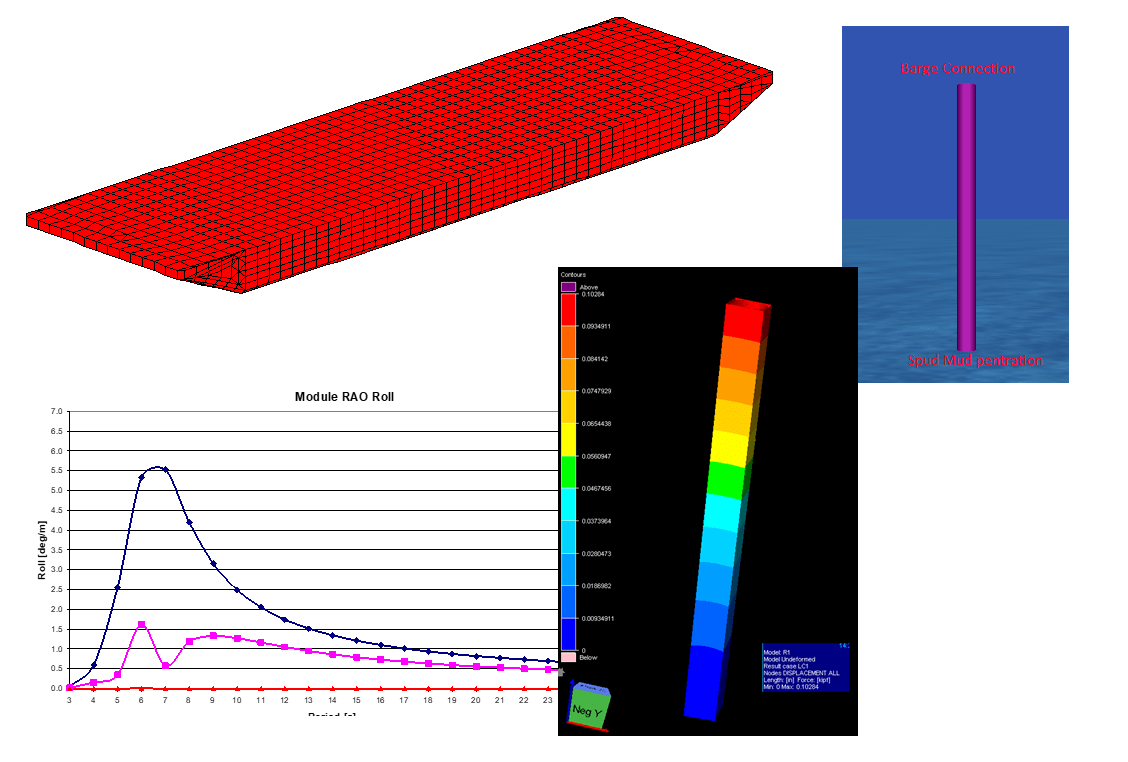 Mooring Analysis of a Spud Barge
The project involved carrying out a detailed mooring analysis for a spud-anchored barge in operating and station-keeping conditions in a water depth of 40 ft. Spuds were modeled as springs with stiffness defined in the longitudinal and transverse directions, with the barge free to move along the vertical. Quasi-dynamic analyses in time-domain were performed to calculate the deflection and loads on the spud springs.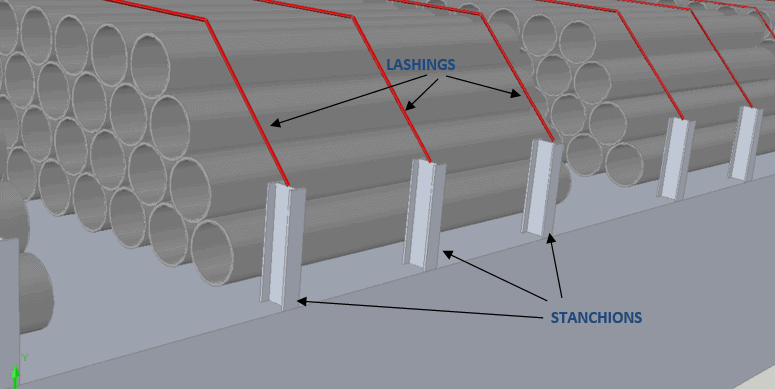 Transportation Analysis for a Barge
A 250 Ft Barge was chartered for the transport of 5000 MT of pipes. TheNavalArch performed a complete Transportation Analysis for the barge, including the stacking height calculation, stowage plan preparation, Stability Assessment, Deck Strength Assessment, Motion Analysis, Seafastening Design, required Bollard Pull Calculations and Towing/Emergency Towing arrangements. Extended real-time 24/7 support during the actual exercise ensured smooth execution of the entire operation.
Client Testimonials
What Clients say about our work
Just wanted to thank you for your assistance with the two technical analyses we conducted recently.
I was pleased with the work provided, which was very professional. In addition, your response to enquiries and requests for further analyses was always prompt, which was very much appreciated.
I look forward to working with you in the future.
The Technical Support is prompt and helpful in clarifying doubts and queries. Technical Consultancy provided for Critical Loadout operations involving Ballasting and Stability Calculations has helped us deliver our projects timely. Besides, TheNavalArch's products have been handy for us in getting reliable Engineering Calculations for critical Marine Operations like Mooring, Loadout, and Towing which we carry out on a regular basis.
TheNavalArch's support in performing seafastening calculations on a very tight schedule was helpful in confirming our lashing arrangement and submitting the reports to MWS on time. The calculations were performed as per the industry standards, and also helped in improving the lashing arrangement for one item
Try us out for your next project!